The All-In-One iPad-Solution For E-Assessments
E-Assessment was yesterday! Today is iAssessment!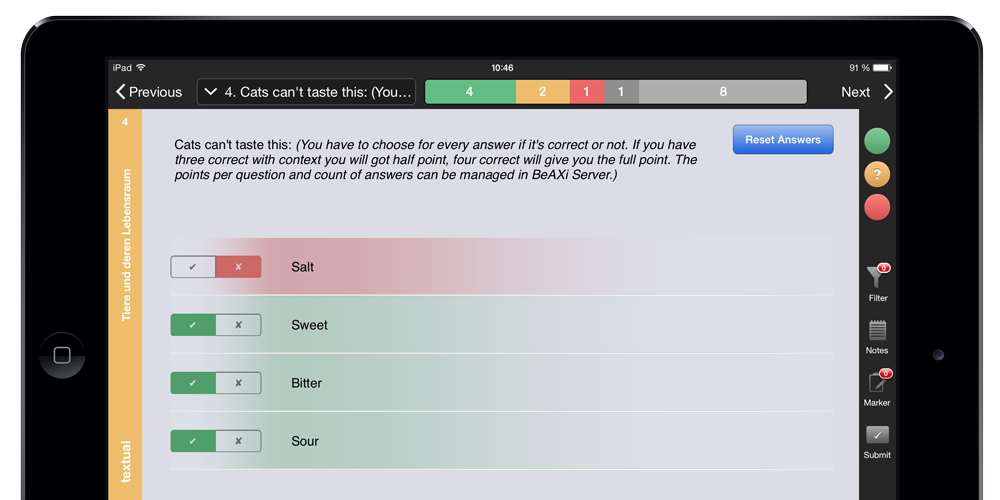 The BeAxi Revolution.
BeAxi revolutionizes the way of how you do exams. The software supports you in creating, conducing and evaluating exams. In addition, BeAxi provides valuable insights that help you to continuously improve your examination process.
Just The Right Features
BeAxi makes your exams an experience.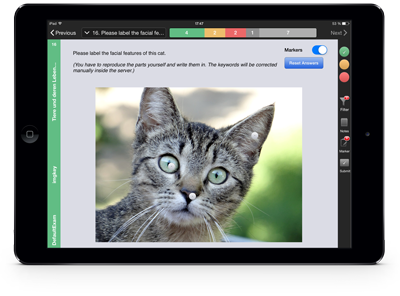 Intuitive and neat operation
The BeAxi iPad-Client is used with common iPad-gestures. Swipe to navigate through questions or use the arrow buttons. All examination questions are based on the same concept and the universal graphic user interface allows integrating an arbitrary number of media into the exam.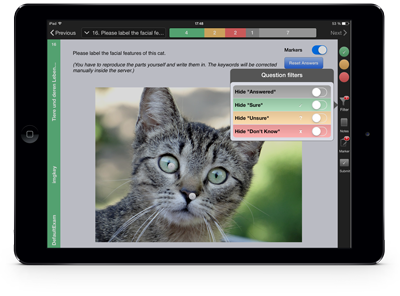 Question Classification
The examinee can classify questions into three categories based on the level of certainty. There is a total of five question classifications available. There is a control element provided, which allows keeping track of the questions' classifications.
Jump Navigation & Search
Within the jump-navigation, the examinee gets an overview of the questions. Their classifications are made visible as well. Along with a fast-scroll element (which becomes particularly handy for a large question set), questions can be searched by key words.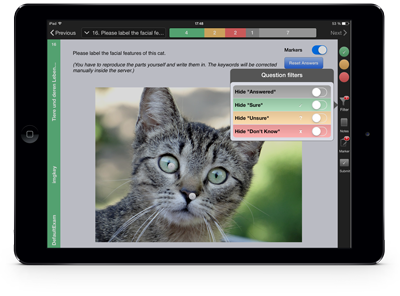 Filtering
Classifications can be filtered. The number of active filters is displayed with a red badge on the filter icon. This feature is used to review the questions in the end before handing the exam in.
PopOver for Media (Images, Audio, Video)
Images, Audio- and Video-files can be combined in a media pop-over. Media are tagged with an icon in order to make the media format immediately visible. A touch click on a media file opens it full sreen. Images can be pinched to zoom.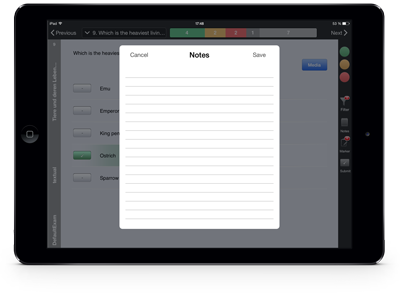 Notes
The examinee is provided with a global notebook. There, he/she can write down remarks for the examination. The notebook is displayed in the entire examination.
We are much more efficient in conducting exams – BeAxi saved us 10 hours of correction work.
The examination process with BeAxi was just perfect! We are planning on conducting as much exams with BeAxi as possible.